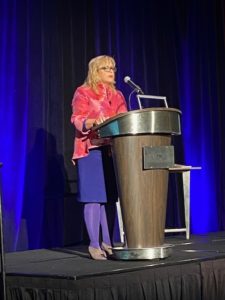 Select Keynote Addresses, Speeches, Panels
Moderator, Event Host, "Together We Inspire," Interview with Tom Dart, Cook County Sheriff, Sarah's Inn, April 27. 2022  
Keynote, "Celebrating Our Voices," Women In Medicine, Northwestern University Feinberg School of Medicine, April 22, 2022
Moderator, Books & Browse I and II, Journalism & Women Symposium Annual Camp, October 2021
Keynote, "We Are Them, She Is One Of Us," Women's Center & Shelter of Greater Pittsburgh, October 2021
Non-Fiction Memoir Panel, Printers Row Literary Festival, September 2021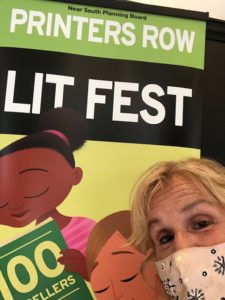 Virtual Panel, "Together We Inspire," Sarah's Inn, May 2021
Virtual Keynote, Deborah's Place, May, 2020
NU Summer Writers Workshop August 2019
"Together We Inspire," Sarah's Inn, May 2019
Breaking The Silence Luncheon, Goodman Jewish Family Services, January 2019
"Write Across Chicago" Panel, Society of Midland Authors, October 2018
NU Summer Writers Workshop 2018
NU Council of 100 2017 November 2017
Powertopia: No, Bro: Tackling Gender Discrimination in Tech and Beyond, November 2017
NU Summer Writers Workshop 2017
Nu Summer Writers Workshop 2016
NU Summer Writers Workshop 2015
Alpha Chi Omega National Conference
American Association of University Women
American Bar Association Women
Amnesty International, NU Chapter
Association of Area Business Publications
Association for Educators in Journalism
Association for Women Journalists
Associated Press Managing Editors
Baton Rouge Business Journal
Between Friends, Chicago
Bill Adams Memorial Foundation
Brunch for Books, Oak Brook, Il.
Cambridge University Gates Scholars
Center Against Family Violence, El Paso
Chicago Women in Publishing
Chicago Foundation for Women
Children's Memorial Guild
Commission on the Status of Women
City of Fargo, N.D.
Community Policing Institute, Minneapolis
Denver Press Club
Evanston Historical Society
Evanston Hospital
Family Services, DuPage County
Family Shelter Services, Washington, D.C.
Family Services, State of Mass.
Family Shelters of Naples, Fla.
Family Violence Coordinating Council Ill.
Family Violence Council of Cook County
FCA Annual Conference
FEMALE (3 Illinois chapters)
Florida Magazine Association
Fort Wayne Women's Bureau, Indiana
Fourth Presbyterian Church, Chicago
Friends of Battered Women & Children
Glenbrook High School
Goodman Jewish Family Services
Gottlieb Hospital
Hazelden Women's Wellness Conference
Hinsdale Women's Club
Hunterdon County Shelter Services
Illinois Coalition Against Domestic Violence
Illinois Woman's Press Association
Illinois Council on Family Violence
International Conference on Violence, Can.
Indiana Coalition Against Violence
Journalism & Women Symposium
Junior League, DuPage County
Lake Austin Spa
Loyola University School of Law
Louisiana Business Publications
March of Dimes Annual Conference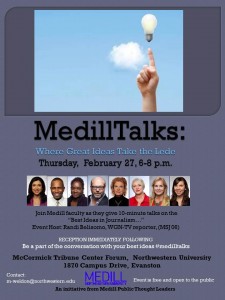 Medill Talks, Northwestern
Metro State College, Boulder, Colorado
Midwest Business Writers Association
Milwaukee Press Club
Miraval Spa & Resort, Tucson, Az.
Mount Sinai Hospital
National Association of Women Writers
National Foundation for Press Women
Newton, Mass. Shelter Services
Nineteenth Century Women's Club
Northbrook Women's Club
Northwestern Summer Writers Conference
Northwestern's Hobart Residential College
Northwestern Leadership Conference
Northwestern University Women's Center
Northwestern Alumni Club of Los Angeles
Northwestern University Alumnae
North Suburban Library Systems
Oak Park Public Library
Oak Park-River Forest High School
Off-Campus Writer's Workshop
Oak Brook Women's Club
Ontario Women's Law Enforcement
Ozaukee Domestic Violence Council
PACES (5 Illinois chapters)
Pillars Community Services
Portland (Ore.) Domestic Violence Conf.
Printers Row Literary Festival
Public Relations Society of America
Queen of Peace High School
River Forest Public Library
Rocky Mountain News
Robert Crown Center Women's Club
Roosevelt Middle School, River Forest
Rush/ Oak Park Hospital
Quill Society
Sarah's Inn, Oak Park
Society of Midland Authors
Society Professional Journalists- Denver
Society of Professional Journalists-Milw.
South Suburban Family Shelter
Southern Utah University
Standing Firm, Women's Center & Shelter of Greater Pittsburgh
Suburban Newspapers of America
Take Back the Night Foundation
TEDX Northwestern U 2014
The Second Step, Massachusetts
Tuesday's Child, Chicago
The National Library Association
The House of the Good Shepherd
Turning Point Behavioral Health Care
The Adult Education of St. Isaac Jogues
The OpEd Project
U.S. Dept. of Justice Violence Against Women
University of Alabama Women's Center
University of California- Irvine
Wheaton Newcomers Club
Willard School, River Forest
WINGS (Women in Need Growing Stronger)
Wise Women Series, Lake Austin Spa
Women's Center & Shelter of Greater Pittsburgh
Women's Legacy Project
Women's Peacepower Conference
Women, Action & The Media
Writers & Editors One-On-One Conference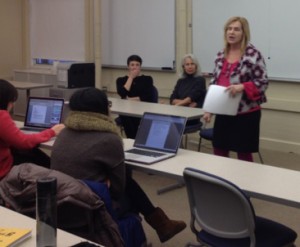 To book Michele Weldon for a keynote or speech, please contact Michele Weldon:  micheleweldon@msn.com