An award-winning journalist for 44 years and author of six nonfiction books, Michele Weldon is a prolific and accomplished storyteller across many platforms and genres, with the continuous thread through her work of compelling narrative.
As a writer, speaker, trainer, editorial consultant or instructor, she maintains a consistency of voice and a belief that true, authentic stories and accurate, masterful content in any form are her mission. You can purchase her books here.
Contact Michele Weldon: micheleweldon@msn.com  Twitter: @micheleweldon
From  1996 to 2014 Weldon taught journalism at the graduate and undergraduate levels at her alma mater, Northwestern University's Medill School. As assistant professor in journalism, Weldon led the redesign of the freshmen undergraduate curriculum with groundbreaking instruction in Reporting & Writing and Multimedia Storytelling. She also taught courses in 21st century media, enterprise reporting, magazine storytelling, narrative journalism and journalism methods, and served as the writing coach for the graduate students.
After being named assistant professor emerita in service, she launched an initiative in 2013 to increase the visibility of new ideas about journalism from faculty and the Medill community with the launch of workshops and  the innovative MedillTalks.  An accomplished editor, from September 2013 to May 2014, she was responsible for editing or writing  81 percent of the editorials published in major media by Northwestern University faculty. She retired as assistant professor emerita in September 2014.
(Read an August 2015 interview with her here with the Association for Women Journalists-Chicago,)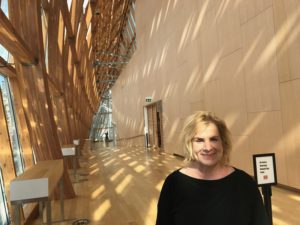 Her first critically acclaimed book, I Closed My Eyes: Revelations of a Battered Woman, (Hazelden/ HCI, 1999), has had more than a dozen printings and was translated into seven languages. A 2012 ebook was released.
Weldon's second book, Writing to Save Your Life (Hazelden/HCI, 2001), has been translated into four languages and is the basis of her Writing to Save Your Life Workshops given in the Chicago area and around the country. It was also re-relased in a new edition in 2012 with an updated foreword and new essays.
In "Everyman News: The Changing American Front Page," (University of Missouri, 2008), Weldon writes about the future of American journalism and the intersection of popular culture and media in modern storytelling.
Her ebook, A Mother And Her Sons (SheBooks) debuted  in August 2014, followed by an audio version of the book. Her fifth nonfiction book, Escape Points: A Memoir, was published in September 2015 through Chicago Review Press and was named to the Editor's Choice for Booklist for 2015,  a finalist in nonfiction memoir by the Society of Midland Authors and winner in memoir of the Great Midwestern Book Festival.
Her 2020 book, "Act Like You're Having A Good Time,"  won the Independent Publishers Press Award for Nonfiction Essay book in 2021, and also the Gilda Radner Award for Humor in Nonfiction in 2021 from Story Circle Network. 
Weldon has also been featured as a live storyteller on The Moth, Here's The Story in Chicago, VoiceBox, and several more. She was co-director of TEDX NorthwesternU 2014 and director of MedillTalks.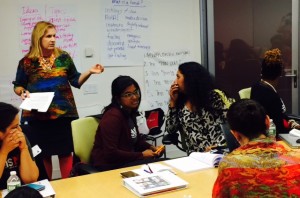 She has written chapters in several books, including the 2011 book, This I Believe: Fatherhood: Essays from NPR (Henry Holt).  Her December 2010 reading of the essay, "A Father Is Born From Many Strangers" at an NPR "This I Believe" event in Chicago was broadcast on NPR with an interview by Bob Edwards.
Weldon also contributed a chapter, "The Changing Nature of News" to the Encyclopedia of 21st Century Media (Sage, 2009). In 1989, her essay, "Making Readers Want Novels is Writer's Hardest Job," was published as a chapter in Conversations with Joyce Carol Oates (University Press of Mississippi). She has a chapter in the 2023 upcoming book, Gifted-Ish: An Anthology. 
As a staff writer, editor or freelance contributor, Weldon has written for newspapers, websites, magazines and radio such as AARP The Ethel, ADWEEK, AlJazeera, Alternet.org, Chicago Tribune, Chicago Sun-Times, Chicago magazine, Christian Science Monitor, Considerable, Cosmopolitan, CNN, Dallas City, Dallas Times Herald, Dial, Forbes, The Guardian,  Huffington Post, Los Angeles Times, Medium, More, Ms., Narratively, NBC Think, Newsday, New York Times, Next Avenue, North Shore, OZY, Pacific Standard, Parenting, Quartz, Seventeen, Slate, Spirit, Writer's Digest, Thrive Global, TIME, USA Today, Washington Post, West Suburban Living, Woman's Day, womensenews.org and more.
She has been a senior leader with The OpEd Project since 2011 and was director of the Northwestern Public Voices Fellowship 2012-2020. Weldon co-directed Public Voices Fellowships at Stanford, Princeton, Loyola, DePaul and Brown universities, Rush University Medical Center, Center for Global Policy Solutions, University of Texas-Austin, University of Indianapolis, Boone Family Foundation and Ms. Foundation. She leads core seminars for The OpEd Project in Chicago and around the country, including seminars at University of Washington, University of Cincinnati, University of Michigan, Wellesley, Purdue, SUNY- Rochester, University of Kentucky, University of Illinois- Chicago, Whiting Foundation and University of California-Merced. She co-led a two-day seminar at Cambridge University for the Cambridge Gates Scholars.
Her animated lesson on narrative sourcing  has earned 65,000 views on TED Ed and youtube. For two years, 2013-2015, Weldon also directed a program through The OpEd Project called Youth Narrating Our World, funded by The McCormick Foundation.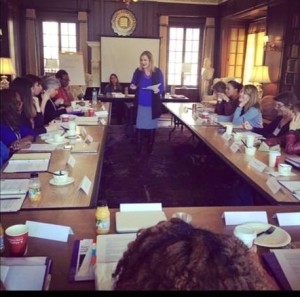 In 2016, she joined Take The Lead Women as editorial director, overseeing the Movement Blog and until 2020, the monthly Virtual Happy Hour podcasts. She produces the weekly newsletter for the women's leadership organization co-founded by Gloria Feldt, with a mission of gender parity in leadership by 2025.
A popular public speaker, Weldon has delivered more than 200 keynotes across the country, Canada and Europe, and has been a guest on hundreds of radio and television shows in the United States, Europe and Canada including "The Oprah Winfrey Show," CNN, "Jenny Jones," "Milt Rosenberg Show," "The Sunday Papers," "NBC's Later Today," "ABC Sunday Morning," "CBS Morning Show," Huffington Post Live, and BBC-TV.
She is a member of the advisory board of Global Girl Media-Chicago, Between Friends, Sarah's Inn and Beat The Streets Chicago. She is a former member of the board of directors of Journalism & Women Symposium where she is an active member, and is a member of  Chicago Writers Association, the Headline Club and Chicago Journalists Association, as well as the Children's Foundation. She is the mother of three grown sons, Weldon, Brendan and Colin.