Escape Points: A Memoir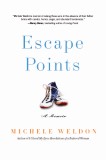 "I don't know how Michele Weldon made wrestling, breast cancer, and single parenting tie together so naturally, so beautifully, but in fact each is a perfect metaphor for this book's message of soulful triumph." —Elizabeth Berg, bestselling author of The Dream Lover
From the September 2015 Starred Review for Booklist:
"Journalist and single mother Weldon is the Everyperson voice of parents everywhere who are raising children on their own, partnerless and working outside the home to put food on the table and keep cell phones charged, because with children, that phone call may come at any time, day or night. It's the one that may be caller ID'd as Unknown where a semi-stranger says your son/daughter has had an accident, and "we need you to meet us at the hospital as soon as possible." And you are the only one, the sole adult who must now drop everything and, above all, remain calm. When there is no one else to tell, "You take this one, honey. I'll be there soon as I can," it's a mighty heavy yoke. But for anyone who has been through a contentious divorce, or breast cancer, or child support battles, or kids' wrestling matches and cauliflower ears or anything similar, Weldon's voice will ring of truth and wisdom and hurt and, yes, the beauty of it all. For she has done it, too, and lived to tell about it in the plain-speak of a parent who's seen too much to play games or sugarcoat anything, but who, nonetheless, can still laugh.
— Donna Chavez
Lacing heartbreak with humor, Michele Weldon provides a potent antidote to the harried single mom stereotype in Escape Points. Divorced from a handsome but abusive attorney husband, Weldon relates the challenges and triumphs of the years that followed as she raised three young sons in the face of cancer, an ambitious career, and the shadow of her ex, who abandoned responsibility for the boys yet whose specter-like presence continued to affect their lives. Weldon faces her fears and failures honestly, guided by a belief in the power of staying calm, doing one's best, and asking for help. As she maneuvers through a complicated life, Weldon shows that single mothers (and their kids) can succeed when others—neighbors, family, teachers, and in this case an incredible wrestling coach—step in to fill the void and the remaining parent stays the course with common sense and dutiful love.
Read the book review on Kirkus Reviews.