Upcoming Events
Journalism And Women Symposium Freelance Free For All Workshop
Hotel Roanoke and Conference Center, Roanoke

Freelance Free for All: So you want to freelance, maybe part time, maybe full time? Maybe you just got laid off and you're freaking out. Come hear several panels on how to pitch, where to pitch, how much to charge and navigating through freelance contracts. There will be three 45-minute panels (followed by Q&A) and a practice Pitchapalooza. We'll have a mix of panelists to discuss the topic, including freelance writers, copy editors, videographers and more. The workshop is offered 11 a.m. to 4 p.m. Friday, Oct. 28, and includes a box lunch. Please bring a laptop, tablet or notebook for notes and pitches. Registration is $85.
Date: October 28, 2016
Time: 1:00 pm
Location:
110 Shenandoah Ave NW
Roanoke
Owning The Power of Your Story: A Writing Workshop
University Of California Irivine, Irvine

In this interactive workshop on the sanctity of authentic narrative, you will learn tools and strategies for telling your personal story, whether for publication as essay or memoir, or for your personal clarity. Award-winning author, journalist and emerita faculty in journalism at Northwestern University Michele Weldon will offer useful strategies for uncovering your own story. (Participants will need pen, paper, as we will have non-digital writing prompts.)
Date: November 17, 2016
Time: 12:30 pm
Location:
School of Education 3200 Education
Irvine
Public Lecture: "She Is One of Us: Dispelling the Myths of Domestic Violence and Embracing Solutions"
University of California Irvine Beckman Center, Irvine

A survivor of domestic violence, author and journalist Michele Weldon will address the cultural myths that surround victims and perpetrators and what we can all do to not only shift awareness but to work towards eliminating violence against women, children and men. A reception and book signing immediately follows the lecture.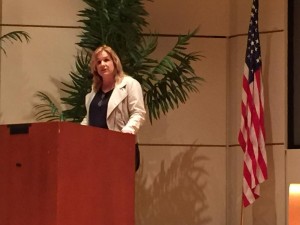 Michele Weldon is emerita faculty in journalism at the Medill School, Northwestern University, where she taught for 18 years.  She is director of the Northwestern Public Voices Fellowship through The OpEd Project, where she is a senior leader teaching programs and fellowships at Princeton, Stanford, Wellesley and Cambridge universities and foundations including Whiting and Ms. foundations.  She is editorial director of Take The Lead Women, a nonprofit with the mission to achieve gender parity by 2025.
Weldon is the award-winning author of four nonfiction books, including her latest, Escape Points: A Memoir that was named one of the best books of 2015 by Booklist of the American Library Association. The book earned an Eric Hoffer Book Award in memoir and was a finalist in the Society of Midland Authors book awards. Her earlier books include the best-selling, I Closed My Eyes, (1999);  Writing To Save Your Life (2001) and Everyman News (2008).  She has contributed chapters in seven other books and anthologies.
Her commentary appears in outlets such as New York Times, USA Today, Washington Post, Chicago Tribune, CNN, Cosmopolitan,  Guardian, Los Angeles Times, Pacific Standard, Quartz, Slate, and more. She serves on the advisory boards of Life Matters Media, Between Friends, Global Girl Media and Sarah's Inn.  Weldon is a former board member of Journalism and Women Symposium and is the mother of three grown sons.
Date: November 17, 2016
Time: 6:00 pm
Location:
100 Academy Drive
Irvine