Upcoming Events
Savannah Book Festival Presentation
Savannah Book Festival, Savannah

Joining more than 40 authors of all genres, Weldon will present her insights and offerings on the writing of memoir and personal journalism in a 40-minute talk, followed by Q & A.
Date: February 13, 2016
Time: 12:00 pm
Location:
One Diamond Causeway
Savannah
Tucson Book Festival Author Pavilion
University of Arizona, Tucson

I will be available in the Authors Pavilion along with hundreds of other authors discussing our work and signing copies of Escape Points.
The 2016 Tucson Festival of Books will take place on Saturday, March 12 and Sunday, March 13 on the beautiful University of Arizona campus. Admission and parking are free.
The Tucson Festival of Books is located on the University of Arizona Mall – along East University Boulevard, stretching from Old Main to east of Cherry Avenue – and in several nearby buildings. For such a large event, the location is relatively compact.
Free public parking is typically available in the University's surface lots and in six garages: Cherry Avenue, Highland Avenue, Main Gate, Park Avenue, Sixth Street and Tyndall Avenue (the Second Street Parking Garage is not available for the public).
Because the University will be on spring break, Festival participants and spectators won't be competing with students for parking. Free public wi-fi is available on the campus.The Festival offers two full food courts along with snack vendors.
Net proceeds from the Festival – from the support of our sponsors, exhibitors, and Friends of the Festival – go to fund critical literacy programs in Southern Arizona.
Date: March 12, 2016
Time: 12:00 am
Location:
1209 E University Blvd.
Tucson
The Good, the Bad and the Fanatic: Sports Moms and Dads Telling Stories With Author Michele Weldon
The Book Cellar, Chicago

Whether you are a sports parent or never will be, or if you were in (or out of) sports as a kid and have a story to tell, please join author Michele Weldon in a discussion of how sports impacted (or didn't) your life as a child or your life as a parent. Please come ready to read and share a 5-minute story around the theme of sports as a parent or youth. The first five writers will share their work in full, with several more invited to share their first lines.
Author and journalist Weldon will be reading and signing copies of her latest book, Escape Points: A Memoir, a story about raising her three sons who were all high school wrestlers and the impact the coach had on their lives.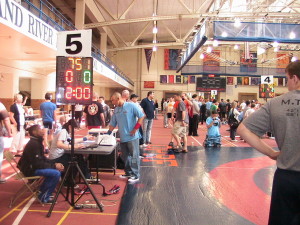 Date: February 19, 2016
Time: 7:00 am
Location:
4736 N. Lincoln Avenue
Chicago